I never do these blog award things, but because a blog I really love -
Confessions of a GlamAholic
- awarded it to me, I had to participate. Thanks so much for giving me The Adorable Blog Award :)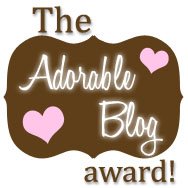 Ten Things About Me:
I hate when people aren't on time.
I worry that I won't be able to cook for my husband.
I've never had a boyfriend (the one I had in 9th grade for a month doesn't count).
I have a pink dresser in my room that I painted myself.
I'm a manager at a four-diamond hotel.
I could eat Chipotle everyday.
I fall a lot when I go to the club.
My dream man is Rick Ross, but with a defensive tackle body.
I dream for my blog to be my full-time career one day.

I wish I had more Twitter followers, so follow me.
I would like to give "The Adorable Blog Award" to the following:

http://jasiferlionsclub.blogspot.com

http://pocketsandbows.blogspot.com

http://rawrmanifesto.blogspot.com

The Rules Of This Award Are:
Thank the person who nominated you, and link back to your post.
Tell us 10 things about yourself.
Nominate your bloggers.
Contact these blogger's and let them know they've received this award.